Fill the Form if you would like to Book Cheap Travel from the uk and Ireland with Sharingcost.com or just scroll down for content
WIZZ AIR launches 21 new routes to Milan Malpensa airport. The European low-cost carrier has announced the opening of its 29th network base, at Milan Italy. It has detailed plans to base five Airbus A321s at Milan Malpensa from July. It will add 21 new routes, in addition to the eight already serves from the Italian airport.
The new routes, which will gradually roll-out across July, cover 11 countries. They include six Greek destinations in Athens, Corfu, Rhodes, Santorini, Thessaloniki and Zakynthos.
WIZZ AIR'S NEW ROUTES FROM MILAN MALPENSA
Milan Malpensa – London Luton
Advertisement
Milan Malpensa – Eindhoven
Milan Malpensa – Fuerteventura
Milan Malpensa – Gran Canaria
Milan Malpensa – Menorca
Milan Malpensa – Ibiza
Milan Malpensa – Tenerife
Milan Malpensa – Valencia
Milan Malpensa – Athens
Milan Malpensa – Corfu
Milan Malpensa – Rhodes
Milan Malpensa – Santorini
Milan Malpensa – Thessaloniki
Milan Malpensa – Zakynthos
Milan Malpensa – Reykjavik
Milan Malpensa – Lisbon
Milan Malpensa – Porto
Milan Malpensa – Pristina
Milan Malpensa – Marrakesh
Milan Malpensa – Tallinn
Milan Malpensa – Tel Aviv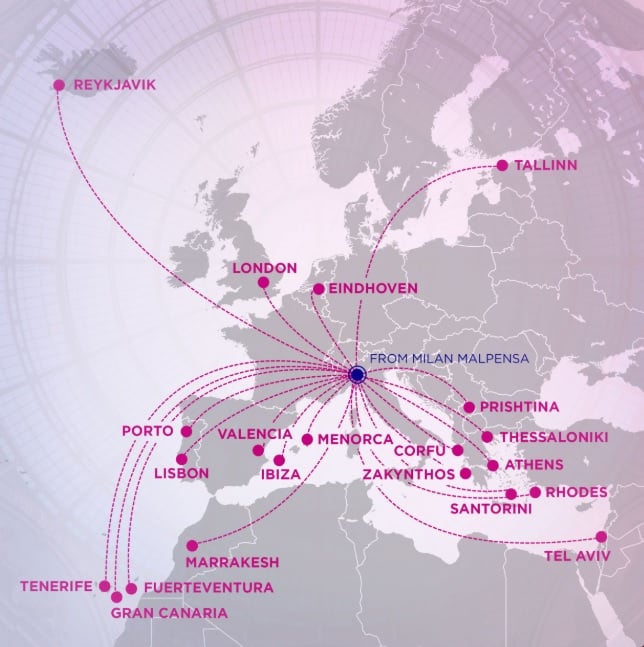 Speaking at the press conference in Milano Malpensa, József Váradi, CEO of Wizz Air Group said: "After 16 years of successful operations to Milan Malpensa airport, I am delighted to announce our newest base here, as we see the potential and the demand for low-cost travel in Milan and the Lombardy region We are dedicated to developing our presence in Italy, and offering more affordable travel opportunities to and from Milan, while keeping ourselves to the highest standards of our sanitizing protocols. Our state-of-the-art Airbus A320 and A321 neo aircraft, as well as our enhanced protective measures, will ensure the best possible sanitary conditions for travellers. Wizz Air is the lowest cost producer with the strongest liquidity position in Europe operating the youngest and economically most efficient fleet of aircraft with the lowest environmental footprint. With that in mind, I'm confident Wizz Air will make a profound impact on Italy's economic development and the ramp-up of its tourism industry."
"We are very proud that Wizz Air has chosen Milano Malpensa as its base in Italy" – said Armando Brunini, CEO of SEA Milan Airports. – "Once again, the market rewards Malpensa and confirms its ability to attract Airlines and investments. Despite the biggest air transport crisis ever, Wizz Air has decided to position its first Italian base in Milan. The work to recover the volumes of passengers from the pre-crisis it is obviously still long and very difficult, however, the response of the European and World airlines that are already planning the repositioning of their fleets on our airport is an excellent sign of encouragement not only for Malpensa but also for Milan and Lombardy."
The post WIZZ AIR launches 21 new routes from MILAN MALPENSA appeared first on TravelFree.